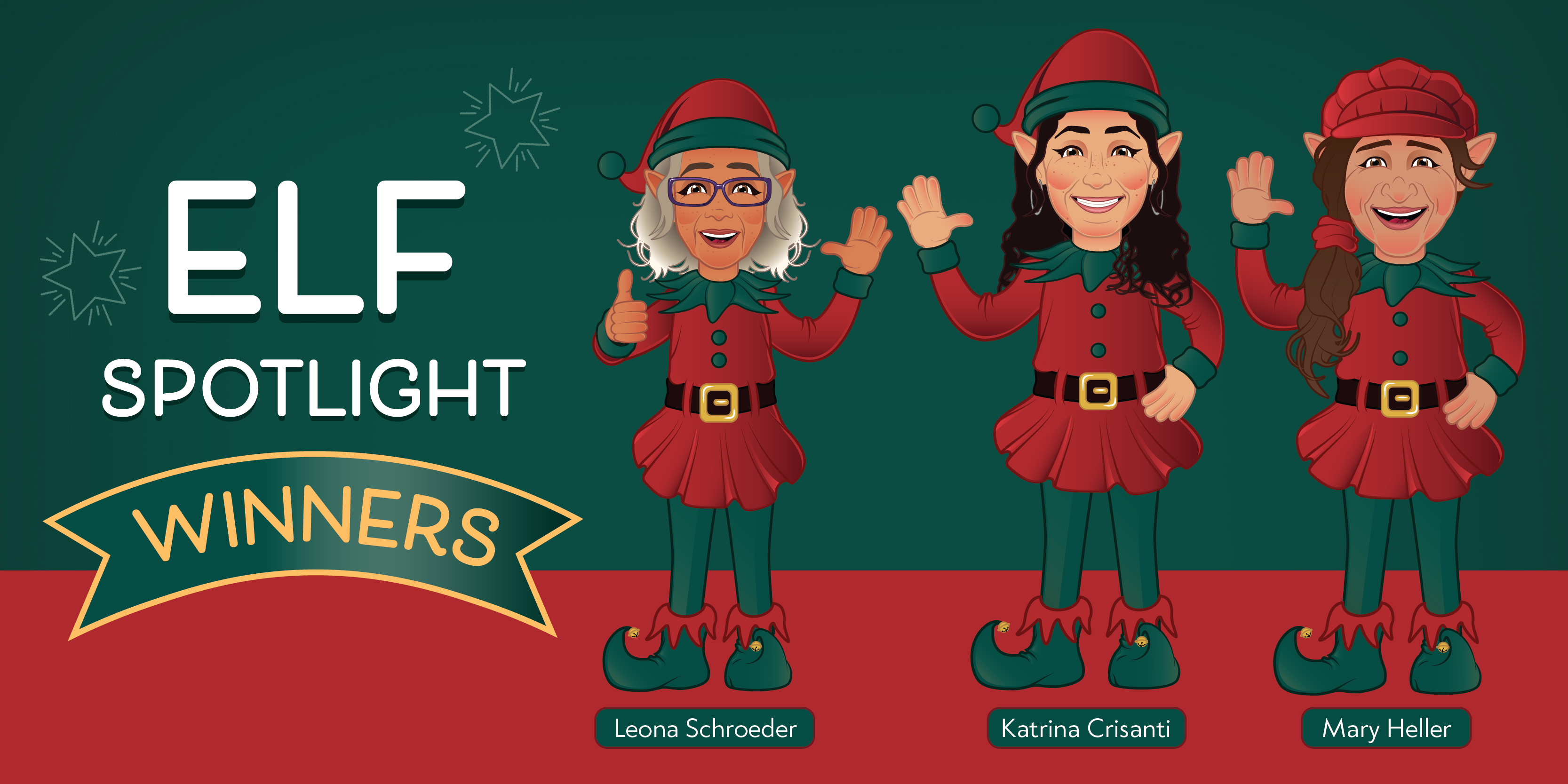 Cherry Hill Programs is thrilled to feature Katrina Crisanti, Leona Schroeder, and Mary Heller in its Elf Spotlight, an award celebrating the most outstanding team members out of the thousands who worked at more than 650 Santa Magic photo experiences across North America. As part of the award, Katrina, Leona, and Mary will be honored with original Elf illustrations featured in the company's marketing materials.
As the industry leader in experiential photography, Cherry Hill Programs (CHP) delivers exceptional Santa Magic photo experiences for millions of families across North America annually. CHP recognizes the incredible contributions of its photographers, sales associates, managers, and Santa characters through several recognition programs throughout each holiday season.
Through the Magic Hero program, team members from each region of Santa Magic photo experiences are recognized for going above and beyond to bring magic to everyone around them. Any CHP employee can identify and applaud staff members monthly by nominating them for their inspirational, encouraging and collaborating work ethic and spirit. Magic Heroes are mentioned on social media and receive prizes.
At the end of the holiday season, three Magic Heroes are selected to be featured in the Elf Spotlight for their extraordinary commitment to CHP's values.
"We're so fortunate to share Santa Magic with millions of families every year and create memories to cherish for a lifetime. That magic would be possible without our amazing team members," said Liz Scoropanos, CHP's Vice President, Retail Operations. "We're excited celebrate Katrina, Leona, and Mary for years to come through fun Elf illustrations."
In addition to the Elf Spotlight and Magic Hero programs, CHP also recognizes Santastic Santas who bring holly, jolly magic to their team and our guests. Santastic Santa awards are given weekly, and top winners are announced at the end of the season.
New for the 2022 holiday season, CHP also awarded prizes to teams at three locations responsible for collecting the most photo release submissions from guests, as well as six prizes to team members who created original and engaging content on social media to promote Santa Magic photo experiences.
CHP believes exceptional experiential photography is achieved through incredible customer service, teamwork, learning and innovation. Learn more about opportunities to join CHP, including holiday and souvenir photography opportunities, as well as corporate positions, online.
About Cherry Hill Programs
Cherry Hill Programs captures the Magic to celebrate moments for a lifetime. In partnership with famous landmarks, attractions, and signature retail venues across North America, CHP is the industry-leader in experiential holiday and souvenir photography. Through a combination of proprietary reservation software, innovative technology, accessible download portals, and complete photography operation implementation – from recruiting and training to collaborative marketing – our mission is simple: to bring magic to every experience. Learn more at cherryhillprograms.com.